Report Summary
While the ongoing COVID-19 public health emergency remained very much top of mind throughout the healthcare industry, 2021 also saw a spike in innovation activity, investing and a return to some of the regulatory, enforcement and oversight activity that was put on hold during 2020.
In this report, we've assembled a comprehensive overview of key legal developments for industry sub-sectors in 2021, with a particular focus on how they may shape the business of healthcare in the year ahead. We observed several common themes across these sub-sectors that healthcare leaders should monitor in 2022:
FLEXIBILITY WILL BE PARAMOUNT across the healthcare ecosystem. Policymakers, providers and investors alike are all grappling with the impacts felt from changing demand for services, the adoption of new means of care delivery and the impacts of regulatory flexibilities. It remains to be seen how some of these flexibilities may play out after the public health emergency, so stakeholders across the industry should keep a close eye on these areas.

A RETURN TO BUSINESS-AS-USUAL points to increased enforcement. From new rules effective in 2022, to newly confirmed agency leadership in the Biden administration, to the withdrawal of COVID-19 enforcement policies, numerous factors are putting the healthcare industry back in the enforcement hot seat.

COMPETITION IS FIERCER THAN EVER for investors, innovators and early-stage companies. Private equity deals in the healthcare space reached record-breaking numbers for value and volume, and digital health funding also reached new heights. With more money flowing into healthcare and higher valuations for early and earlier stage companies, healthcare dealmakers should come ready to play in 2022.

Healthcare Private Equity
In the past year, private equity (PE) has seen record-breaking numbers for deal value and deal volume, with healthcare as one of the leading industries in both metrics. In 2021, PE investment in healthcare continued to both expand and become more sophisticated. Heading into 2022, investors and target companies will have to remain adaptable with various potential changes on the horizon, including legislative actions. Read our overview of the trends that shaped healthcare PE in 2021 and the issues that may impact the market in 2022, including:
New financing structures

Pricing challenges

Evolving insurance markets
Digital health continued its trajectory of explosive growth, surging adoption and increased patient demand as the COVID-19 public health emergency continued throughout 2021. Taken together, these factors drove:
Continued discussion and implementation of telehealth flexibilities at the state and
federal levels

Record-high digital health funding, strategic dealmaking and a hypercompetitive
transactions market

Renewed energy on privacy, interoperability and data sharing

Heightened focus on consumer data protection
Stakeholders across the digital health sector must keep a close eye on the evolving regulatory landscape, which will have significant implications for care delivery and business success in 2022.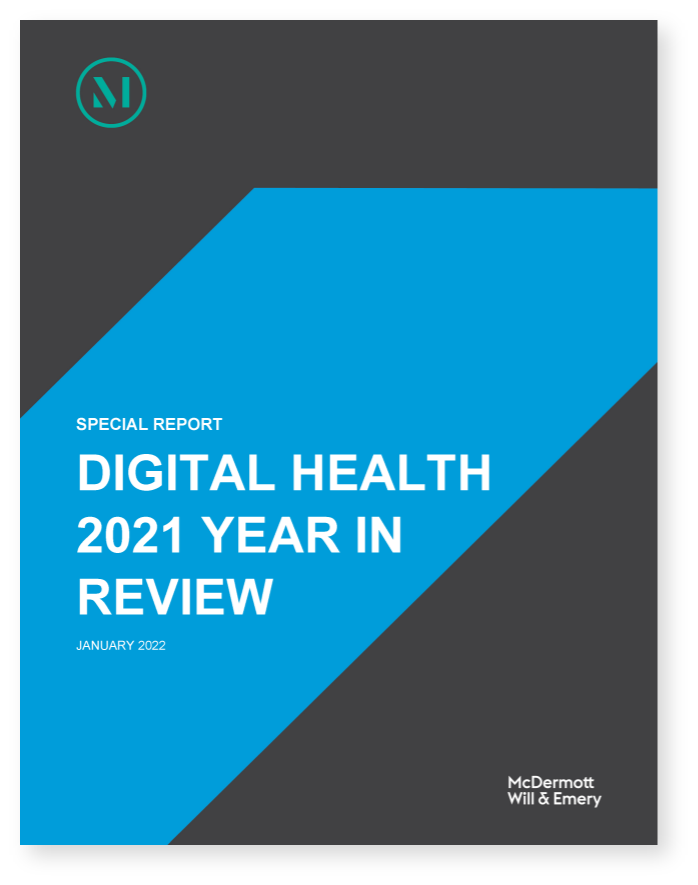 The challenges and enduring pressures of the pandemic will require Congress and the Administration to consider new response strategies, but other health policy priorities also will garner attention in the year ahead. McDermott+Consulting examines the top 10 health policy priorities and key initiatives likely to dominate the agenda in 2022. Download now for insights on: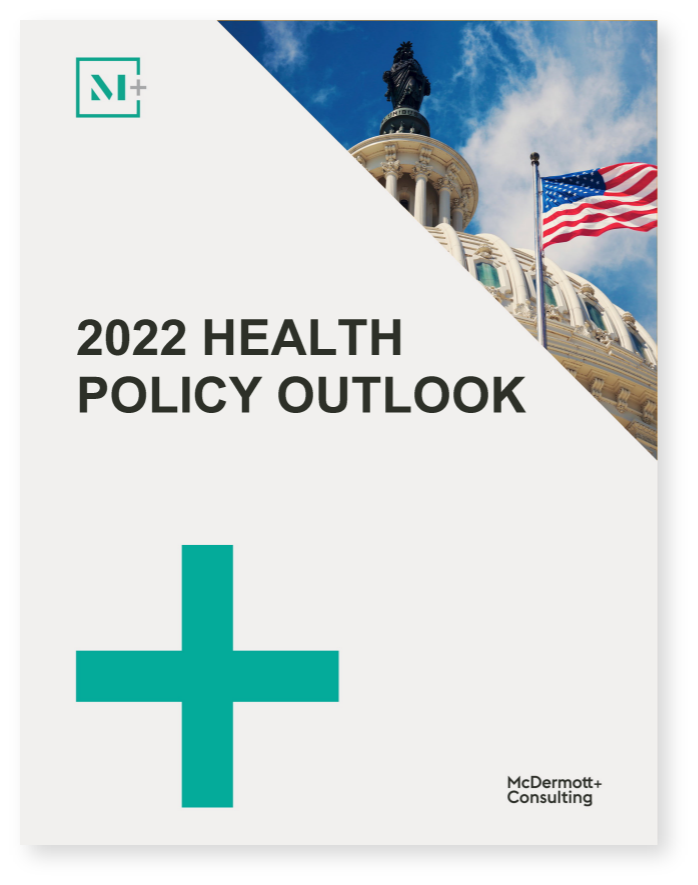 COVID-19 Policies

Telehealth and Other Flexibility Waivers

Build Back Better

Drug Pricing

Surprise Billing

Mental Health Policy

Physician Payment

Cures Act 2.0

Value Based Care

Health Equity
2021 was a dynamic year for the US Food and Drug Administration (FDA) as the agency continued to address the ongoing and evolving COVID-19 public health crisis and the associated manufacturing, supply chain and clinical development challenges impacting the industry. The FDA largely acted through guidance documents and enforcement policies, while enforcement activity in traditional areas of focus remained static or declined. This all occurred in the absence of a confirmed FDA commissioner and unified policy agenda for the majority of the year. As we enter 2022 with a newly confirmed FDA commissioner, the withdrawal of many COVID-19 enforcement policies and the reorganization of key FDA divisions, signs point to increased enforcement in the year ahead.
This report reviews notable actions that shaped FDA-regulated industries and products in 2021, and it offers insight into the agency's anticipated actions and priorities in the following areas:
COVID-19 Response
Drugs and Biologics
Medical Devices
Digital Health
Laboratory-Developed Tests And Precision Medicine
Food & Dietary Supplements
Tobacco & Cannabis
Real-World Data and Real-World Evidence
Clinical Investigations
Advertising and Promotion
Enforcement
Investment and Transaction Trends
With great change comes great board responsibility, and 2021 brought plenty of topics to the table. Boards are now facing increasing responsibilities associated with shareholder activism, "mission-critical" corporate operations risks, cybersecurity, the corporate code of conduct and the Biden administration's focus on pandemic-related fraud enforcement. Meanwhile, corporations are encountering both heightened scrutiny of directors and management's willingness and capability to operate and implement new systems.
Michael W. Peregrine revisits the top developments from 2021 and offers a bird's-eye view of the challenges boards of directors are likely to face in 2022, including:
Systems Management
Corporate Compliance
Diversity and Governance
Conflicts of Interest
Workforce Culture
Brand Voice
ABOUT US
Regulatory shifts and a hypercompetitive dealmaking landscape, all set against the ongoing COVID-19 public health emergency, were the hallmarks of 2021. Throughout the year, the McDermott Health team partnered with healthcare and life sciences clients to help them navigate these shifting sands and work towards healthcare and transactional innovation with an eye towards compliance and financial recovery.
Our achievements are driven by a deep commitment to our clients and we were honored to see those achievements recognized in industry accolades. In 2021, the McDermott Health team received top rankings from U.S. News – Best Lawyers "Best Law Firms," The Legal 500, Chambers USA and Law360; this was the 12th consecutive year we received a National Band 1 ranking from Chambers USA, and the third consecutive time we were the only nationwide Band 1 Healthcare firm. We were also named the most active firm for healthcare private equity by Pitchbook's League Tables for the fourth consecutive year. Our lawyers also received top honors in Legal 500 Europe, Middle East & Africa (EMEA), Best Lawyers European editions, LMG Life Sciences, and The National Law Journal, among others.
Above all else, these accolades reflect our dedication to providing exceptional business results for our clients.
We strive to offer unparalleled counsel to the world's most respected, innovative and important health organizations as they make their mark on the rapidly evolving healthcare industry. We're deeply passionate about the incredible progress our clients are making and our role in supporting them as they transform the future of healthcare – and we're equally passionate about what these revolutionary results mean for patients.
As an advisor to many of the healthcare industry's leading organizations, the depth of our practice, leading market reputation among clients and peers, and strategic vision empowers us to guide clients through the opportunities and challenges of 2021 and toward transformation in 2022.
Throughout 2020, the McDermott Health team partnered with healthcare and life sciences clients to help them proactively respond to the COVID-19 pandemic, protect providers and patients and work toward recovery with an eye towards compliance and financial recovery. Our 2021 Annual Health Report took a look back at key developments of 2020 and offered projections on the health law outlook in 2021 in the following areas:
Healthcare Private Equity
Global Healthcare Investing
Digital Health
Managed Care
Antitrust
Collaborative Transformation
Health Policy
FDA
In our 2020 Annual Health Report, we assembled a comprehensive examination of the healthcare industry in 2019, with particular emphasis on the legal implications in the market. We've also collected insightful analyses, predictions and guidance for the year ahead in key areas, including trends in digital health; regulatory and compliance changes; modifications in the provider and hospital spaces; collaborative transformations; Developments in private equity; what to expect in FDA requirements; and more. Note: this report was assembled and published prior to the outbreak of the COVID-19 pandemic