Last year was a time of significant and rapid change in the healthcare industry and even greater advancement and innovation still lie ahead.
In this report, we've assembled a comprehensive examination of the healthcare industry in 2019, with particular emphasis on the legal implications in the market. We've also collected insightful analyses, predictions and guidance for the year ahead in key areas, including:
Trends in digital health
Regulatory and compliance changes
Innovative new developments
Modifications in the provider space
Collaborative transformations
The future of cross-border and global health
Developments in private equity
What to expect in FDA requirements
Changes in the hospital space
At McDermott Will & Emery, we proudly work with1
Nearly 70% of the nation's top hospitals
80% of the healthcare industry's top disruptors
More than half of the world's top EHR companies
Most active firm in healthcare private equity
Report Summary
As we compiled highlights spanning subsectors of the healthcare industry in 2019, we noticed that a few central themes rose to the top.
DIGITAL HEALTH and innovation played a key role in a variety of areas. Hospitals and health systems in particular are facing increased consumer demand for innovation. Many of them are creating dedicated "innovation centers" to address those demands, develop new products and services and accelerate their introduction to the market. In recognition of the calls for increased innovation in healthcare, the US Department of Health and Human Services (HHS) launched its "Regulatory Sprint to Coordinated Care" initiative, which aims to reduce the regulatory burdens that hinder innovation. Regardless, new innovations in digital health, technology and other areas will likely spark the need for updated regulations, along with inspiring greater investment activity and more collaborations.
INCREASED REGULATIONS, policy changes and legislation in the healthcare space have impacted every facet of the industry worldwide. On the business side of the health industry, regulatory scrutiny has influenced the rising popularity of the physician practice management model, and it is also expected to impact the way boards of directors approach governance. New regulations from the FDA, and from other federal and state agencies in the US, have also challenged hospitals and health systems and have moved the needle in regulating digital health products and services—with a focus on data privacy, market pathways and interoperability. In Europe, the General Data Protection Regulation (GDPR) has affected the use and sharing of data and raised complex legal questions around cross-border digital and telehealth collaborations. Generally, the GDPR and updated guidance from the FDA reflect the need for a more flexible, risk-based approach to regulation that accommodates a rapidly evolving technological landscape.
COLLABORATIVE
TRANSFORMATION continues to play an important role in shaping the future of healthcare, improving care and lowering costs. Although last year's IPOs in the industry decreased from a record-breaking 2018, opportunities still abound in 2020, particularly for cross-industry collaboration and data-driven digital health deals. When it comes to digital health, collaborations will center on technological sophistication, data mining and privacy and reimbursement this year. Reimbursement issues have pressured hospitals and health systems to seek out collaborations in an effort to achieve economies of scale, and they are increasingly partnering with private equity funds to invest in consolidation and new technology. Looking to the future, behavioral health—such as addiction treatment—is opening new avenues for private equity, and the aging population in the US will also create work for the medical industry and expand investment opportunities. In each section of the following report, we explore these common trends, along with other important challenges and opportunities, in greater detail.

In 2019, new regulations and innovations in the dealmaking space had a particular impact on the digital health landscape.
Regulatory developments from the US Food and Drug Administration, the Centers for Medicare and Medicaid Services, the Department of Health and Human Services and other federal and state agencies moved the needle on the regulation of digital health products and services, with particular attention paid to data privacy, market pathways and interoperability. The draft guidance released from regulators in 2019 will bring these issues, crucial for the wider adoption and reimbursement of digital health products and services, closer to finalization in 2020.
Fraud and abuse developments demonstrated that the digital health space remains a priority for government oversight, from enforcement actions against digital health companies to the Regulatory Sprint to Coordinated Care's Stark Law and Anti-Kickback Statute proposed rules.
On the transactions front, 2019 IPOs were down from a record-breaking 2018, but the overall outlook for 2020 remains one of opportunity, particularly for cross-industry collaboration and data-driven digital health deals.
---
In light of this recent enforcement trend [in the telemedicine space], healthcare companies should exercise extreme caution and consult with experienced regulatory counsel prior to opening telemedicine practices.
If finalized, CMS's proposed [interoperability] rule may require hospitals and payors to make significant investments in their health information technology to comply with the new requirements.
In general, the [FDA's] updated guidance documents reflect the need for a more flexible, risk-based approach to regulation that accommodates a rapidly evolving technological landscape.
PODCAST: DIGITAL INTEREST
FOOD & DRUG
ADMINISTRATION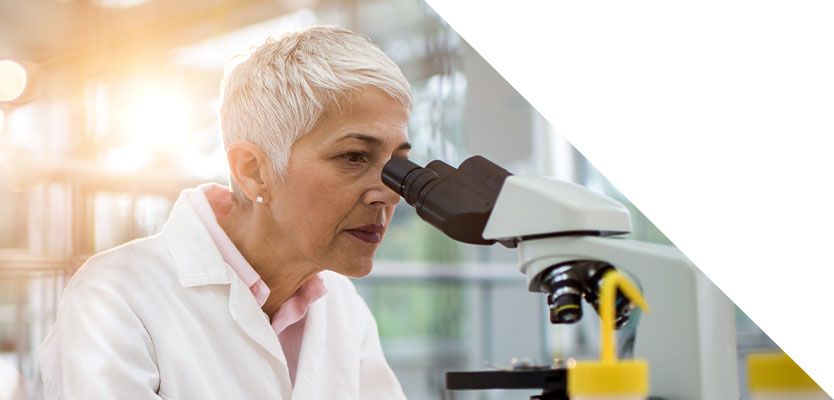 ---
The [medical device] guidance states that the FDA's consideration of these factors will be "pragmatic, context-dependent (considered in the context of the relevant non-clinical and/or clinical information about the device, e.g., information about the device's mechanism of action and modes of failure) and consistent with the FDA's statutory and regulatory authorities and requirements."
The FDA's proposed approach [to AI/ML SaMD] would allow modifications to algorithms to be made from real-world learning and adaption that accommodates the iterative nature of AI products while ensuring the FDA's standards for safety and effectiveness are maintained.
In an election year, issues such as drug pricing and youth vaping are likely to remain at the forefront of the conversation and to be highly politicized by congressional and presidential candidates alike.
Over the past year, we've seen prolific regulatory output and a number of leadership transitions from the US FDA.
The agency continued to make headway on the 21st Century Cures Act, announcing a number of proposals and mandates to modernize drug development, combination products, medical devices and digital health and artificial intelligence products, among other products and processes.
Outside of the drug and medical device space, the FDA prioritized the enforcement and regulation of tobacco, cannabis products and dietary supplements, as well as advertising and promotion of these products. While the agency's enforcement actions decreased slightly in 2019, stem cell products and dietary supplements continued to capture their attention.
This flood of regulatory activity occurred under four different agency leaders. Commissioner Scott Gottlieb resigned on April 5, and his successor, Commissioner Stephen Hahn, was sworn in on December 17. Norman Sharpless and Brett Giroir served as interim commissioners over the eight-month transition period. The combination of new leadership and an election year will make 2020 a year to watch the FDA closely.
COLLABORATIVE TRANSFORMATION
Collaborative transformations are shifting the marketplace in bold and exciting new ways to improve care and lower costs, but they also present challenges for today's healthcare players. We expect this dynamic to continue apace in 2020.
Today's healthcare industry stakeholders will need to determine their path and the partners who can help craft and execute their strategy. Key areas in which we anticipate great opportunity in 2020 include:
HEALTHCARE INVESTMENT AND PRIVATE EQUITY
Private equity funds and hospitals and health systems are increasingly partnering to invest in consolidation and new technology.
HOSPITALS AND HEALTH SYSTEMS
In response to reimbursement pressures, hospitals are seeking out collaborations to help them achieve economies of scale.
DIGITAL HEALTH
Technological sophistication, data mining and privacy and reimbursement will be at the heart of collaborations this year.
BEHAVIORAL HEALTH
We continue to see an uptick in investments in behavioral health growth, as well as increased delivery options and reimbursement developments around behavioral health.

POLICY
Healthcare policymakers both in Congress and the administration are increasingly seeking to better predict and control federal budgets by shifting financial risk onto providers and payers.
McDermott brought together some of the industry's leading innovators to discuss what's coming in Collaborative Transformation at the 2019 WSJ Health Forum.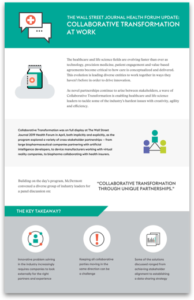 You can read our takeaways from the 2019 WSJ Health Forum.
---
"Data strategy and willingness to share data are important in any collaboration and are part of the industry's future."
Vernessa Pollard, McDermott Will & Emery
PODCAST: McDERMOTT HEALTH
HOSPITALS AND HEALTH SYSTEMS
Focus on Innovation Centers
Hospitals and health systems have long been a hub for research and development, but of late, they have transformed and centralized their innovation efforts to capitalize on opportunities and accelerate the introduction of novel products and services to the market. In 2019, more healthcare systems embarked on efforts to centralize their innovation efforts by creating "innovation centers," in whatever forms they may take, as a key and growing part of their strategy.
While the many legal issues impacting innovation centers are beyond the scope of this summary, special issues for consideration by hospitals and health systems related to innovation center activities include:
Identification of innovation center structure and governance within the health system's corporate structure
Structure of innovation investments in third parties, including start-ups
Development of an opportunity assessment process for innovation center investments, including tailored due diligence and identification of key legal and regulatory issues
Conflicts of interest associated with co-investment by health system insiders
In the fall of 2019, McDermott held our inaugural Hospital & Health System Innovation Summit. The 2019 program explored the evolution of hospital and health system innovation, from executing data-driven collaborations to structuring investments and diligencing innovative partnerships. The insights gleaned and new connections built among industry leaders at this year's summit are sure to drive healthcare innovation in 2020 and beyond.
LEARN MORE ABOUT INNOVATION CENTERS
Hospitals and health systems are facing consumer demand for innovation, the need to expand and enhance streams of revenue and the push for improved quality, all while navigating changing regulations, federal enforcement, antitrust litigation and business pressures. 2019 saw hospitals and health systems navigate these challenges and more, with valuable lessons for 2020.
Some of the most pertinent topics in this space include key legal actions and trends impacting hospitals, health systems and investors in the space, along with insights on how these developments will impact organizations in 2020. Among the topics hospitals and health systems should be aware of are
2019's transformative regulatory changes and legislation, and the legal challenges that followed
Financial distress signals, pricing strategies and contracting practices
Collaborative transformation at work in a variety of sectors and the increase in innovation centers
Data privacy and cybersecurity challenges impacting the healthcare space
Focus on Innovation Centers
---
"The opportunity to connect with patients and healthcare consumers is vast. A more connected healthcare system can ensure that care is not disjointed, which will drive patient satisfaction and adherence."
Kerrin Slattery, McDermott Will & Emery
Changing political, economic and regulatory forces, combined with competitive pressures, stakeholder demands and increasing scrutiny of corporate ethics are all expected to impact how boards of directors approach governance in the coming year.
Michael W. Peregrine highlights the top 10 projected trends in his latest Forbes article.
READ THIS ARTICLE
PODCAST: GOVERNING HEALTH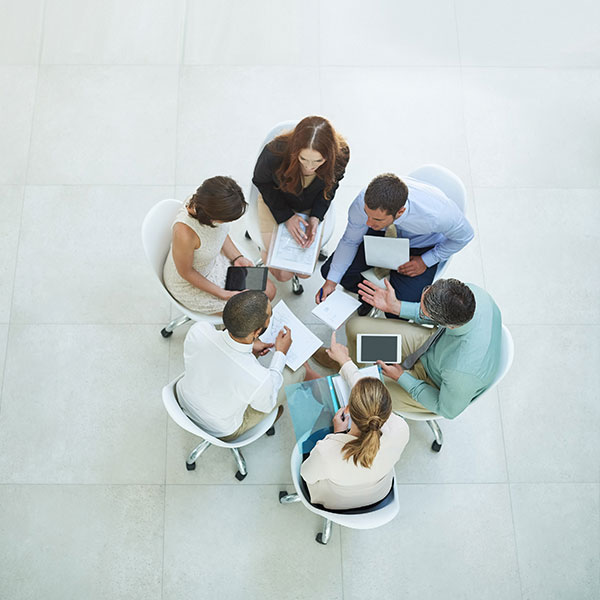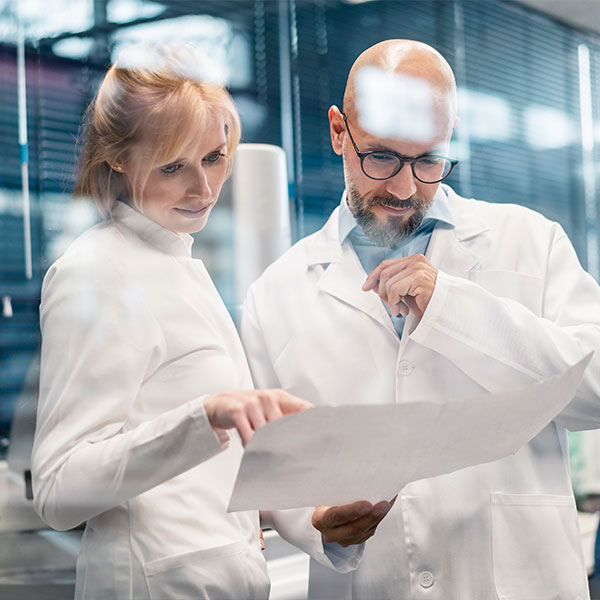 European healthcare, while varied from country to country, demonstrated a number of trends that impacted patients, providers and investors in 2019 and will shape strategies in 2020. From the rise of digital health opportunities to concerns stemming from political shifts, this report identifies 10 key developments that have been taking shape in European jurisdictions.
To help accelerate the transformation of the US healthcare system from a fee-for-service to a value-based system, the US Department of Health and Human Services (HHS) launched its "Regulatory Sprint to Coordinated Care" initiative, which aims to reduce the regulatory burdens that hinder innovation.
STAY UP TO DATE ON THE SPRINT
Tips for submitting effective comments on proposed rules
2020 is expected to be another active year for the healthcare industry. Congressional leaders likely will attempt to address issues they were previously unable to resolve. Tensions are expected to be high as stakeholders continue to clash over positions on high-stakes issues. This report narrows the vast health policy landscape to our top 10 issues of significance for 2020, and offer our consultants' insights into what 2020 might have in store.
READ OUR 2020 POLICY FORECAST
PODCAST: McDERMOTT+CONSULTING
ABOUT US
The overarching theme of the past year was fast-paced change. In 2019, we made headlines for working on some of the most high-profile, innovative and important healthcare work in the industry. We facilitated collaborations, navigated regulatory challenges and opened doors to innovation across industries and beyond borders—all in an uncertain and complex market.
Our achievements are driven by a deep commitment to our clients, and we are honored when that dedication is reflected in industry accolades. In 2019, McDermott was the only health practice to receive top national rankings from U.S. News – Best Lawyers "Best Law Firms," Chambers USA, The Legal 500 and Law360. We were also once again named the most active firm for healthcare private equity by PitchBook's League Tables, recognized by Chambers USA as Health Team of the Year and named Health Practice Group of the Year by Law360.
Above all else, these accolades reflect our dedication to delivering exceptional business results for our clients.
We strive to offer unparalleled guidance to the world's most respected, dynamic and important health organizations as they make their mark on the rapidly evolving healthcare industry. We're deeply passionate about the incredible strides our clients are making and our role in helping them transform the future of the healthcare industry. And we're just as passionate about what these boundary-pushing results mean for patients.
As counsel to many of the leading organizations across the broad healthcare spectrum, our depth of practice, leading market reputation and respect from our clients and peers empowers us to guide clients through the regulatory, legal and business requirements they may face in 2020 and beyond.
We pride ourselves on forming true partnerships with our healthcare clients. And in 2020, as we guide them through the complex and ever-changing industry environment, pushing the boundaries of what it means to be innovative in healthcare, we do so with vision, insight and perspective.