2020 was a tumultuous year for the healthcare and life sciences industries—marked by global disruption, it was also a testament to the power of innovation and collaboration. The year ended on a hopeful note with the approval and distribution of emergency-authorized vaccines, but the challenges facing healthcare are far from behind us.
In this report we've assembled a comprehensive overview of the healthcare industry in 2020, with particular emphasis on the legal implications of the unprecedented year. We also look ahead to the future of the industry, which is full of opportunities to break down long-standing barriers to innovation and move towards a more modern and patient-centric vision of care in many areas, including:
Government response to COVID-19
What to watch in FDA oversight
Trajectory for digital health
Changes in the hospital space
Regulatory and compliance updates
Reimbursement and managed care developments
Collaborative transformations
Healthcare investing and healthcare private equity
Healthcare policy outlook
Developments and future outlook for healthcare in Europe
At McDermott Will & Emery, we proudly work with
Nearly 70% of the nation's top hospitals
80% of the healthcare industry's top disruptors
More than half of the world's top EHR companies
Most active firm in healthcare private equity
Report Summary
As we compiled highlights across sub-sectors of the healthcare industry, we observed several common themes:
BARRIERS BROKE DOWN across all sectors of healthcare to help providers respond rapidly to the COVID-19 pandemic. A flood of new rules and regulations were released to help save lives, protect doctors and patients, secure needed supplies, adapt healthcare delivery to a remote world, reduce financial burdens and open the door to produce innovative solutions quickly. While many of these rules and waivers were designed to be temporary and expire after the public health emergency, patients and providers alike have indicated that these changes are positive and should remain in place after the curve is flattened.
TECHNOLOGY TOOK CENTER STAGE for patients, providers and business leaders. When the world shut down in March 2020, some were better positioned than others to transition to virtual work. As the year progressed, virtual solutions—from telehealth visits to remote due diligence—became the new normal and even emerged as the preferred modality for many. This transition from in-person care to virtual care highlighted access issues and technology gaps for certain populations—a challenge to overcome and an opportunity to improve health equity in the year ahead.
COLLABORATIONS TRANSFORMED THE BUSINESS OF HEALTHCARE and initial slowdown in deal volume in the first half of 2020 due to cash flow, operational disruptions and overall uncertainty saw reversals—and in some sectors, spikes—in the tail end of 2020 as investors and dealmakers adapted to new ways of doing business and gained an understanding of how healthcare will look in the years to come.** In some areas, such as digital health and life sciences, some remarkable and game-changing collaborations emerged between competitors and non-traditional health industry companies, continuing the trend of Collaborative Transformations the McDermott team has been watching—and often facilitating—in recent years.
FOOD AND DRUG ADMINISTRATION
The US Food and Drug Administration (FDA) became a central focus of the nation and world's attention in 2020, since the agency regulates many of the critically needed therapies, treatments and interventions needed to mitigate and combat the COVID-19 pandemic. The agency faced many challenges in light of the inevitable politicization of a public health emergency, exercising rarely used authorities to facilitate an expedient response to the pandemic, in addition to pushing forward its traditional regulatory agenda.
We review notable actions that shaped FDA-regulated industries and products in 2020 and offer insights into the agency's 2021 expected actions and priorities in the following areas:
COVID-19 Response
Drugs and Biologics
Medical Devices
Digital Health
Laboratory-Developed Tests And Precision Medicine
Food
Dietary Supplements
Tobacco
Cannabis
Clinical Investigations
Webinar Series
Enforcement
GLOBAL HEALTHCARE INVESTING
Today's global healthcare marketplace is marked by unprecedented transformation. This presents both challenges and opportunities to today's market participants. We have developed this guide as a step in your journey to global healthcare collaborations and stand ready to help you implement a practical and operational approach, including the following insights for each jurisdiction:
The impact of COVID-19 on the provision of healthcare and life sciences
Ownership or equivalent restrictions in relation to the provision of healthcare
Reimbursement of public or national healthcare services and award of public contracts
Devices certification and reimbursement
Drug approvals and reimbursement
Anti-kickback rules and incentives to doctors
Regulation of AI and software as a medical device
Telemedicine and teleconsultation
Merger and foreign investment control
Forthcoming and anticipated changes in healthcare and life sciences law
Key legal and regulatory issue in health and life science transactions by country
United States: Top 10 List

France: Top 10 List

Germany: Top 10 List

Italy: Top 10 List

United Kingdom: Top 10 List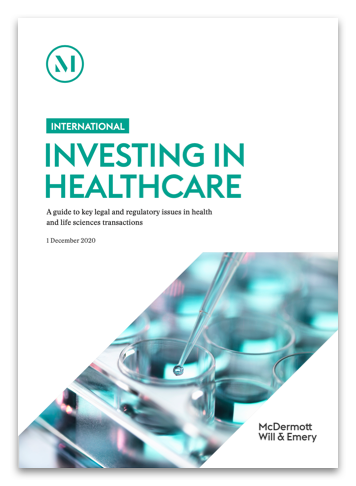 Download the full report for information on six additional European countries.
Download Now
2020 was an extraordinary year for corporate governance developments. Amidst the global pandemic, a combination of social, political, regulatory and constituent pressures rattled conventional fiduciary wisdom in unprecedented ways, and judicial decisions shifted the needle on fiduciary oversight duties. Collectively, these developments underscored the increasing importance attributed to the role of the corporate board member.
Michael W. Peregrine revisits the top developments from 2020 and offers a bird's eye view of the challenges boards of directors are likely to face in 2021 and steps leaders should take to address them in his Forbes columns.
Boards of directors should keep the following in mind as they move into 2021:
ENGAGEMENT
COMPLIANCE OVERSIGHT
DIVERSITY AND GOVERNANCE
OVERSIGHT OF WORKFORCE CULTURE
CONFLICTS OF INTEREST
ENFORCEMENT
The federal antitrust enforcement agencies brought three hospital merger challenges and three criminal antitrust enforcement actions in healthcare in the past year. Combined with the incoming Democratic administration, healthcare antitrust enforcement is likely to remain strong in 2021.
Our Health Antitrust Year in Review:
Examines specific antitrust challenges and enforcement actions that impacted hospitals and health systems, payors and other healthcare companies in 2020;
Offers lessons learned from these developments in the midst of the COVID-19 pandemic; and
Provides analysis of the enforcement trends, federal guidelines and state policy updates that are likely to shape the healthcare antitrust landscape in 2021.
COLLABORATIVE TRANSFORMATION
The country is in the midst of a challenging and transformational time. The healthcare industry is no exception, and in many ways is both at the center of and leading that transformation.
The pandemic has accelerated trends we already were seeing, and forced health business leaders to reconsider old assumptions. These rapid changes, driven by unprecedented challenges, present bold and exciting opportunities for unexpected partners to come together to improve care, lower costs and expand access to care.
We expect in 2021 to see even more shifts in the marketplace as federal and state regulators, healthcare providers, investors, technology developers and others respond to these pressures and opportunities, and come together to better serve patients, break down barriers and drive healthcare innovation.
With these opportunities come novel and complex legal and business considerations that health industry players must keep in mind as they forge a path forward in 2021, and come back stronger than ever from the crises of 2020.
In our upcoming video, we explore the following areas driving Collaborative Transformation in the year to come:
Digital Health
Private Equity Investing
Federal Healthcare Policy Changes
Hospital and health System Innovation
2020 REVISITED: RESHAPING HEALTHCARE THROUGH COLLABORATIVE TRANSFORMATION
COLLABORATIVE TRANSFORMATION: 2021 OUTLOOK
The digital health marketplace exploded in 2020 as all but the most essential in-person services were put on hold to stave off the spread of COVID-19. This transition toward digital care spurred:
TEMPORARY LEGAL AND REGULATORY CHANGES as federal and state laws and regulations were reshaped to break down longstanding barriers to digital care adoption and implementation to respond to COVID-19

PROPOSED LEGISLATION in the federal and state legislatures addressing a range of matters highlighted during the pandemic response

HEIGHTENED ENFORCEMENT activity and new compliance considerations

INNOVATIVE TRANSACTIONS to capitalize on demand and expand access to care
Digital health providers, technology developers, investors and all industry stakeholders should take a proactive approach to successfully navigate this rapidly changing environment in 2021.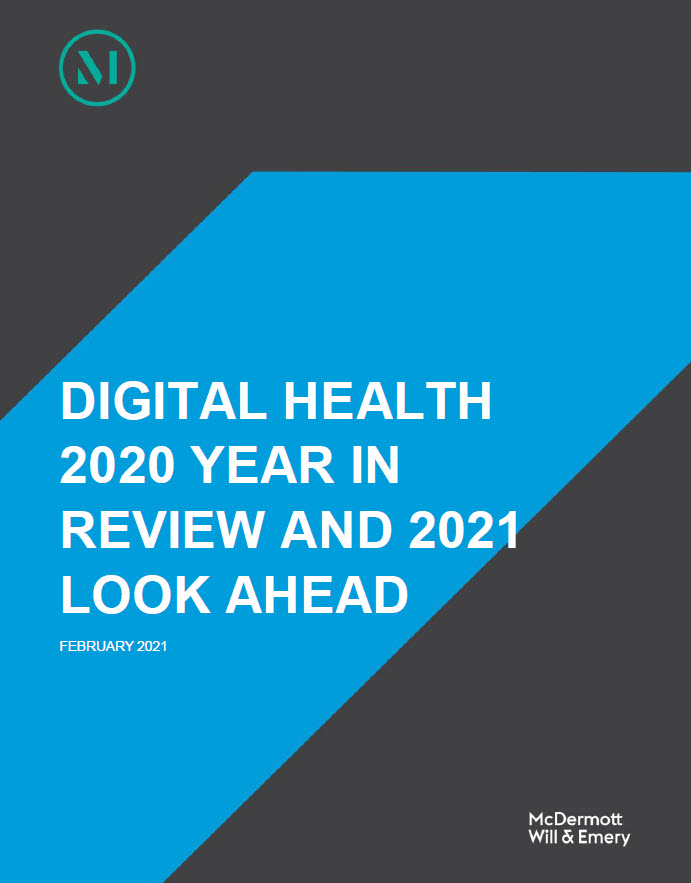 2020 Federal Telehealth Bills: Areas of Impact
A total of 49 federal bills (and many more state bills) were introduced throughout the year, designed to drive adoption and break down barriers standing in the way of telehealth adoption by patients and providers alike. A review of the federal bills reveals seven key areas that were top of mind for legislators, and indicate areas of potential opportunity and challenge for the digital health ecosystem.
Some of these bills offer temporary changes to the duration of the public health emergency, while others propose sweeping and long-lasting changes that can impact the way patients receive care, how telehealth services are covered and reimbursed, and more. Whether you're working to track your actions in response to waivers or are considering actions to keep telehealth accessible after the pandemic, these bills and seven focus areas should be watched closely in the year ahead.
We saw significant developments in managed care regulation at the federal and state levels in 2020.
We anticipate the rapid pace of change will continue in the year ahead, with effects felt across a broad range of industry subsectors, from plans and providers to vendors and pharmacy benefit managers. In this webinar, managed care leaders from McDermott Health and McDermott+Consulting analyze some of the most significant legal developments impacting health plans in 2020 and explore what to expect in 2021.
Developments impacting plan-provider relationships such as price transparency and surprise billing

Anticipated changes in Medicare Advantage

Prescription drug pricing regulation

The outlook for managed care policy in the Biden administration
2021 will be a year of transition as the United States welcomes a new administration to the White House, continues to roll out vaccines and processes the pandemic's impact on the healthcare system. In the face of these changes, private equity investors should be proactive in pursuing innovative opportunities and investment strategies as deal activity and valuations continue to soar across diverse healthcare sectors from 2020's record-setting end. Read our breakdown of the trends that shaped healthcare private equity in 2020 and the issues that may shape markets and drive deals in 2021, including:
ADAPTING TO A DIGITAL WORLD, EVEN AFTER THE RETURN TO "NORMAL"

THE RISE OF JOINT VENTURES AND CREATIVE DEAL STRUCTURES

DEMAND FOR EFFICIENCY AND THE EMERGENCE OF NEW MVP SECTORS
As the US healthcare system grapples with the ongoing COVID-19 pandemic, the Biden administration is setting the tone for future relief efforts and rolling out its broader healthcare policy priorities—many of which differ considerably from those of its predecessor. The coming year will likely see major regulatory and legislative actions, and stakeholders should be closely anticipating and monitoring key policy trends that may affect their business objectives and strategies. The McDermott+Consulting team outlines the top health policy issues to expect this year.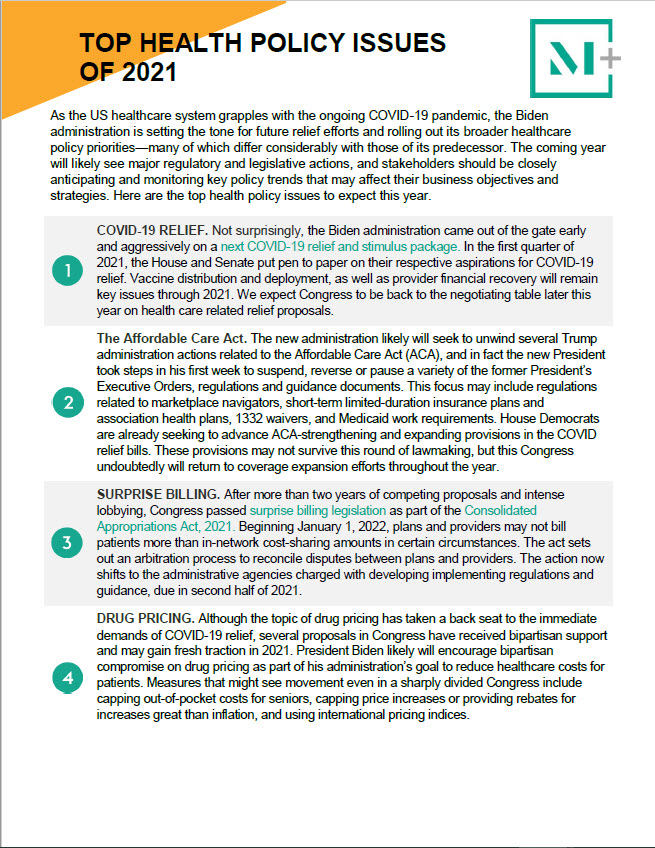 ABOUT US
Novel healthcare challenges were the overall theme of 2020. Throughout the year, the McDermott Health team partnered with healthcare and life sciences clients to help them proactively respond to the COVID-19 pandemic, protect providers and patients and work toward recovery with an eye towards compliance and financial recovery.
Our achievements are driven by a deep commitment to our clients and we were honored to see those achievements recognized in industry accolades. In 2020, the McDermott Health team received top rankings from U.S. News – Best Lawyers "Best Law Firms," The Legal 500 and Chambers USA; this was the 11th consecutive year we received a National Band 1 ranking, and the second consecutive year we were the only firm to receive this honor. We were also named the most active firm for healthcare private equity by Pitchbook's League Tables for the third consecutive year. Our lawyers also received top honors in 2020 Legal 500 Europe, Middle East & Africa (EMEA), Best Lawyers European editions, LMG Life Sciences,and The National Law Journal.
Above all else, these accolades reflect our dedication to providing exceptional business results for our clients.
We strive to offer unparalleled counsel to the world's most respected, innovative and important health organizations as they make their mark on the rapidly evolving healthcare industry. We're deeply passionate about the incredible progress our clients are making and our role in supporting them as they transform the future of healthcare – and we're equally passionate about what these revolutionary results mean for patients.
As an advisor to many of the healthcare industry's leading organizations, the depth of our practice, leading market reputation among clients and peers, and strategic vision empowers us to guide clients through the unanticipated challenges of 2020 and toward successful recovery in 2021.